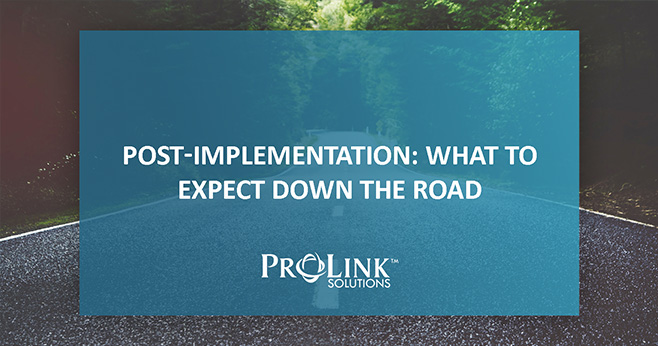 When an organization makes the decision to acquire new software, it's typically because there is a need: Your business is growing? Manual processes are overworked? Your staff are becoming harder to manage? Software sprawl is impacting your cost of doing business? No matter the reason, the ultimate goals are to increase efficiencies, streamline processes, reduce cost, and increase ROI. To that end, your team does the hard work: preparing the business case, putting out an RFP, selecting the software and going through the software implementation process.
Now you are live, and then what? What happens post-implementation? Oh yes, get back to work! The project team is disassembled, team members are back to their normal operations and are expected to use their new software and show results. Now, fast-forward five years. What do you see? In my career I have seen and experienced two scenarios:

The first scenario, and honestly the most common, is where I receive a new software selection request and the justification is that the current system does not satisfy the needs of the business.
 
In my career as an Enterprise Project Management Office manager, my aim has been to help the business unit and leadership prepare their business case and make sure the company investment was needed and justified. What I found was that after several years, key employees left the company and took with them their knowledge and expertise. Members from the original implementation team were gone and as new employees are being hired, and we as a company were not doing a good job at documenting our processes and training new employees on the systems. With institutional knowledge gone, we realized that the existing system was underutilized by as much as 85% and there was no collaboration or partnership with the software provider.

The second scenario is when I received request for an extensive system customization.
 
When presented with this request, as part of our due diligence we would review the business units' processes that had been impacted by the requested customization, in addition to previous change requests. What I found is that in most cases, due to the loss of basic system knowledge and lack of software adoption, the business units were reverting to their original processes and were trying to change the system to fit those processes. After discussing the business needs with our service provider, we were able to streamline their processes by using the system properly. We were also able to reduce their customization cost which, if you are in IT, you may know that maintaining system customizations is a very expensive and cumbersome process.
If your agency is currently facing one of these scenarios, don't despair! there are things ProLink can do to help your situation. Your first step is to reach out to ProLink Customer Success and schedule a meeting to discuss your needs and challenges.  At ProLink we understand that a successful software implementation does not end when our clients go live. To support our clients and as part of our customer success initiatives we have created the following services:
Software Adoption Evaluation
Our change management and software adoption experts will collaborate with our clients and ProLink Professional Services team in the Analysis of  a client's software utilization data, will conduct research via interviews, surveys, and virtual working sessions to understand users' motivations, needs, challenges, environments, beliefs, complaints, and reasons why users don't adopt, in order to provide a software adoption evaluation assessment and recommendations.
Process Improvements Gap Analysis & Adoption Scope definition
Our Process Improvements/Software Adoption and Product Experts will work with our clients' subject matter experts to gather the client staff's high-level Voice of the Customer (VOC) feedback (grouped by operational processes) via working sessions, interviews, and shadowing sessions to understand users' needs, challenges, areas of process improvements and training needs, as well as convert feedback into high level requirements.
We will also identify critical to quality items to identify and develop best practice recommendations as well as develop a high-level roadmap to implement the product suite based on the discovery held within each department.
Process Training Evaluation
Our Training and Product experts will work with our clients' business units to conduct a training needs discovery consisting of a system demo, one-on-one interviews with leadership, and a training opportunity survey. ProLink will provide assessment results, a training plan, and recommendations.
These services were developed with our clients in mind. The deliverables will provide our clients the data they need to make an informed decision, in how they can support their business units and staff to make them more efficient while realizing software benefits and improving their ROI. Our client's success is our priority and as your business partner we will help you develop a software adoption and strategy that will make sense to you and your staff.
https://uat.prolinksolutions.com/wp-content/uploads/2023/02/blog-.jpg
346
658
Sam Gordon
https://uat.prolinksolutions.com/wp-content/uploads/2020/06/new-logo.png
Sam Gordon
2023-02-20 23:35:42
2023-03-20 22:41:24
Post-Implementation: What to Expect Down the Road