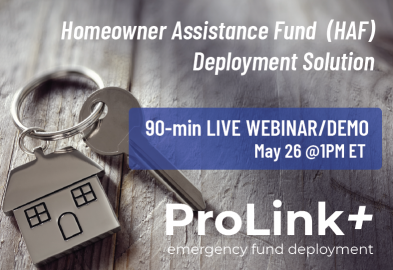 We are hosting a webinar series via Zoom on Homeowner Assistance Fund (HAF) Deployment. So far, we have hosted two 30-minute webinars on the subject, both of which were a rousing success with great turnout. A total of 25 states have attended our webinars  thus far. We are excited to have practically half of the nation showing interest in ProLink+. We expect an even higher turnout for our main 90-minute webinar on May 26, when we plan to showcase a live demo of ProLink+.
Click here to sign up for our 90-minute webinar on May 26 and reserve your spot today!
In case you missed either of the first two webinars, check out a recording of our the May 12 webinar below:
A Packaged Solution for Immediate HAF Deployment
ProLink has teamed up with E&A Team, Inc. to deliver a turnkey, package solution to states for the immediate deployment of the Homeowner Assistance Fund (HAF) authorized under the American Rescue Plan Act. E&A Team has been trusted for more than 25 years to provide the highest quality compliance solutions and training for the multifamily housing industry, and we are excited to work with them.
What is the Homeowner Assistance Fund?
HAF refers to funds prioritized to homeowners under the American Rescue Plan Act. These funds are available to homeowners who have experienced the greatest financial hardships. You can read more about the HAF and American Rescue Plan Act here.
Where Does ProLink+ Fit In?
ProLink+ is a proven technology that serves states for the Hardest Hit Fund program. We are upgrading the technology to meet the needs of today's Homeowner Assistance Fund. ProLink+ comes to the rescue and provides U.S. states with the cloud-based software they need to manage emergency fund deployment effectively and efficiently.
https://uat.prolinksolutions.com/wp-content/uploads/2021/08/post-5-12.png
270
393
marketing
https://uat.prolinksolutions.com/wp-content/uploads/2020/06/new-logo.png
marketing
2021-05-12 14:12:18
2022-10-20 16:36:29
ProLink+ Webinar Series for Homeowner Assistance Fund (HAF) Deployment